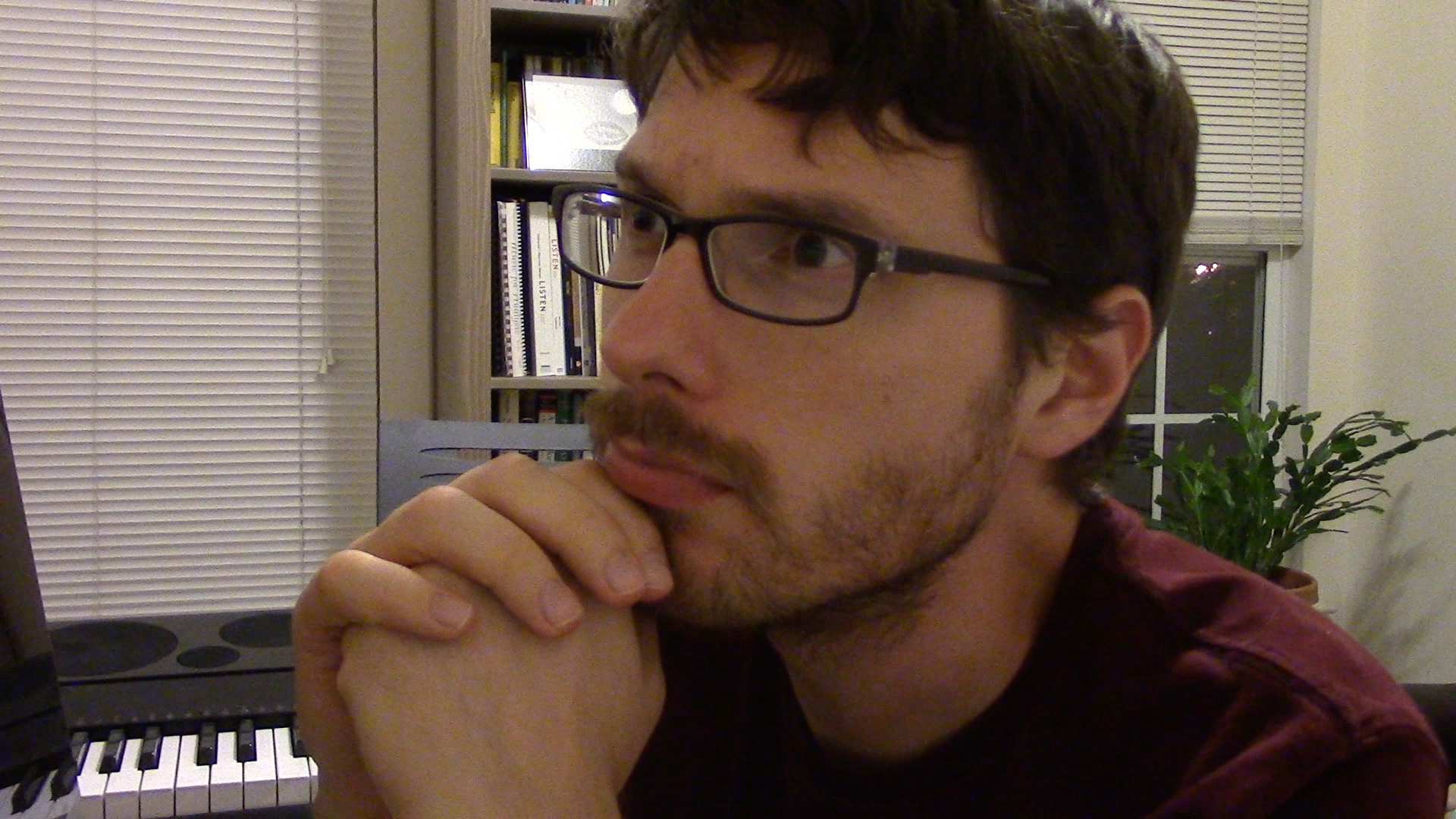 Hi there, I'm David Kulma. I compose, teach, and talk about music. I also make YouTube videos.
On my personal YouTube channel, I have two projects. Surreality, now in it's second year, is a daily series of short absurd, often silly, videos with seemingly no purpose. Broken Links is a web series of stories mixing my spoken-word singing, music, and animation. I apply Robert Ashley's ideas to online video in my own way. Season One was made during Summer 2015.
My second channel is educational: Music Corner. Now with five in-depth, fast-paced episodes, I explore the inner working of music in a fun, humorous, and entertaining way. I recommend you start with the first episode, where I answer the question, "Why do we start with the note C instead of A?"
I'm currently working on an online opera for television The Rest !s Sh!t: Stories from the Microchasm with composer Dorian Wallace video artist John Sanborn. We screened the pilot in May 2016 as a part of Experiments In Opera's Video Operas project. The New York Times described me as "rambling and riveting" and the New York Observer called our project "bogged down in momentousness" and "pretentious."
My recent solo composer work is postminimalist with lots of pretty chords repeated endlessly. Here is a list of my various online and compositional work. I'm a member of ASCAP.
Dorian and I are Trystero. We perform Robert Ashley's Perfect Lives and other Awesome Music. We have now performed two full marathon performances in New York City of Ashley's masterwork (3 1/2 hours in February 2016 at Spectrum and 7 hours in January 2015 at Firehouse Space). We have performed episodes at other venues in NYC and in Ohio and Michigan. I call my performance style "spoken-word singing," and I spent years memorizing the entire text. We release our own music on Bandcamp. Trystero is a member of the ensemble consortium Tenth Intervention. Our most recent performance was at Chase Public in Cincinnati, Ohio in July 2016.
I am also an oboist and freelance in the Charlotte area some. I trained as a conductor in school, but don't do that much anymore. I have two music degrees from Kent State University. My main mentors there were Danna Sundet and Frank Wiley.
I teach as an adjunct in the music department at Winthrop University. I've coauthored a textbook called How Music Works, I have an online theory resource, Flippin' Theory! to help me do my job better, and I've written articles in Hybrid Pedagogy and Engaging Students 2 (with Meghan Naxer). I enjoy teaching, but am highly critical of education systems.
I've done some other stuff too. I attempted a blog with Ben Johnston and the Kepler Quartet. I hosted an internet radio show, Awesome Explorations, on KJSR.net as DJ Raoul and then the short-lived The Stupidest Podcast on the Internet where I past-tense read reddit.
In Spring 2017, I ran as the Green Party candidate for Congress in South Carolina's 5th district special election on June 20th. (I got 242 out of 88,316 votes cast.) I talked about medicare-for-all universal healthcare, free public college, affordable housing, ending prison slavery, and getting money out of politics.
I live in Rock Hill, SC with my wife Kirsten, who works in musical instrument repair, and our dog, Pollock, who likes to bark at cats, squirrels, and the unknown.